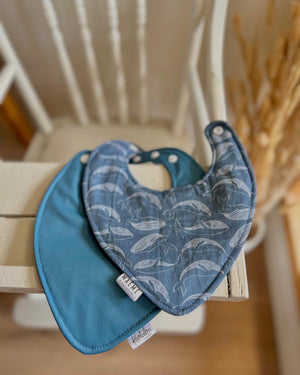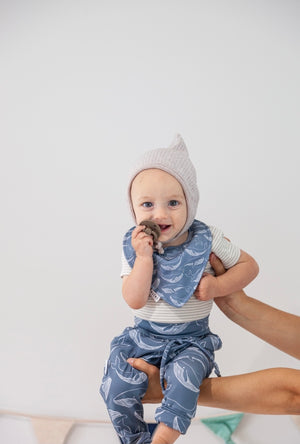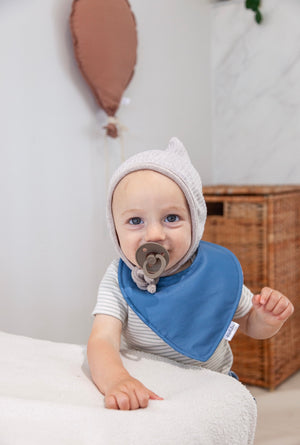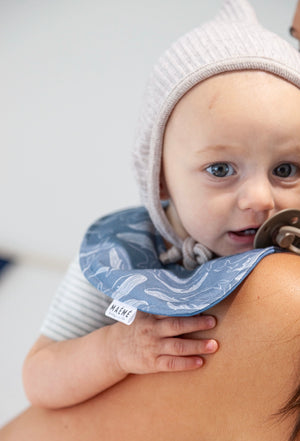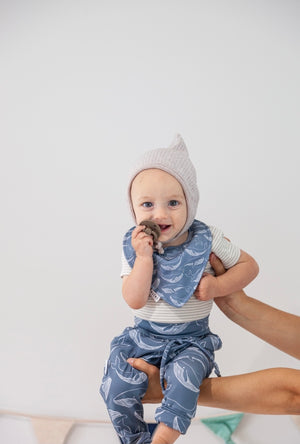 Reversible Bib Ocean Sardine
REVERSIBLE BIB 0-36 MONTHS
In collaboration with the Quebec company Maémé, we worked on a reversible multifunctional bib model! Marina has been making her bibs with her fairy hands since 2019(?), with great care and quality. We decided to create this bib to reuse scraps, and to combine style with utility!

DID YOU KNOW? The reversible bib KANTALOU X MAÉMÉ allows you to collect 1 bottle of water abandoned in our oceans & to recover scraps of unused fabrics
▪️ One side with cotton pattern
▪️ Bamboo terry interior for absorption
▪️ One side in Kantalou fabrics for snacks/meals
▪️ 100% polyester 100% recycled fibers
▪️ The bib is ultra absorbent and waterproof
▪️ Made from scraps
▪️ 100% Handmade in Quebec
▪️ Adjustable from 0 to 36 months
▪️Easy to put on and take off thanks to the adapted snaps
INTERVIEW
At the end of meals, rinse with cold soapy water and let dry

Put in the washing machine with soap without fabric softener

DO NOT machine wash in hot water (this could damage the fabric)
DO NOT put in the dishwasher (this could damage the fabric)
Air dry (recommended method) or machine dry on LOW heat

DO NOT tumble dry at high temperature (this could damage the fabric)
To avoid stains, use a stain-removing Marseille soap
Kantalou - For our planet, for our minis.