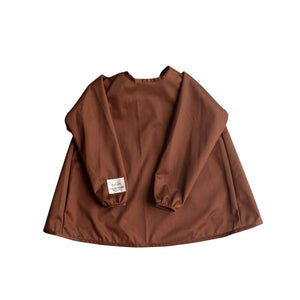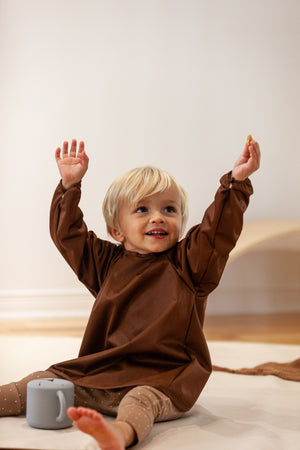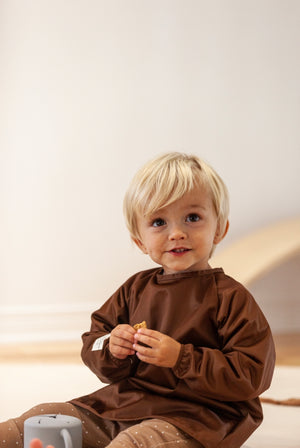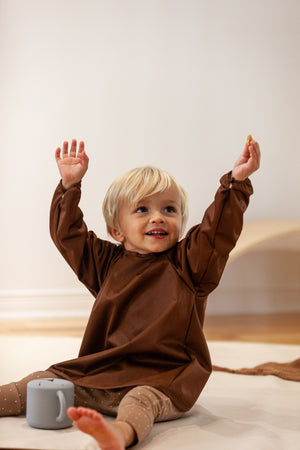 Apron for children 2 to 4 years old made from recycled water bottles
DID YOU KNOW? Each apron allows you to collect 4 plastic bottles abandoned in our oceans and landfills.
NO MORE STAINS ON CLOTHES! A very large apron to cover everything!
The perfect apron for kids who love cooking with mom & dad: chopping vegetables, making pancakes, mixing spaghetti sauce.
Also an essential for the creative activities of our minis: drawings, modeling clay, painting.
FEATURES
This apron is made 100% in Quebec

The exclusive Kantalou fabric is made from recycled water bottles

The fabric is waterproof, washable and thin for transport, 100% polyester 100% recycled fibers

One size for children from 2 to 4 years old & scalable with its adjustment to the arms

Long and round cut, provided with long sleeves, for a better protection of the clothes
INTERVIEW
At the end of the activity, rinse the apron with cold soapy water, rub with Marseille soap and let dry

Put in the washing machine with soap without fabric softener

To avoid stains, use a stain-removing Marseille soap

Air dry (recommended method) or machine dry on LOW heat

DO NOT machine wash in hot water (this could damage the fabric)

DO NOT tumble dry at high temperature (this could damage the fabric)

DO NOT put in the dishwasher (this could damage the fabric)
Kantalou-  For our planet, for our minis.