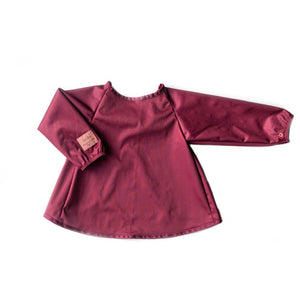 Scalable bib for babies 6-24 months made from recycled water bottles
DID YOU KNOW? Each bib allows you to collect 3 plastic bottles abandoned in our oceans and landfills .
The bib of choice to start feeding with baby, for messy snacks for older children, and for family outings! It can be rolled up and taken everywhere, machine washed, and matches the style of your mini!
FEATURES
This bib is 100% made in Quebec.

The exclusive Kantalou fabric is made from recycled water bottles

The fabric is waterproof, washable and thin for transport, 100% polyester 100% recycled fibers

One size for babies from 6 to 24 months & scalable with its two-level adjustment in the neck and each arm

Easy to put on and take off for baby thanks to the adapted press studs

Long and round cut, equipped with long sleeves, for better protection of clothing during meals.
INTERVIEW
At the end of meals, rinse with cold soapy water and let dry

Put in the washing machine with soap without fabric softener

DO NOT machine wash in hot water (this could damage the fabric)
DO NOT put in the dishwasher (this could damage the fabric)
Air dry (recommended method) or machine dry on LOW heat

DO NOT tumble dry at high temperature (this could damage the fabric)
To avoid stains, use a stain-removing Marseille soap
Kantalou - For our planet, for our minis.

Photo credit: Camylle Messier
Bavette grenade
Ça nous sauve beaucoup de lavage!! Très utile à tous les repas et se lave facilement sous le robinet d'eau froide. Sèche en quelques heures.
Couleur parfaite, sèche rapidement ♥️👌
Bavette Grenade
Très belle et pratique bavette! Un parfait cadeau de shower de bébé ❤️🤰🏽
J'adore
Les bavoirs Kantalou sont tous exceptionnels les uns que les autres. Je les adore sincèrement et je veux agrandir ma collection dans le futur. On n'en a jamais assez.