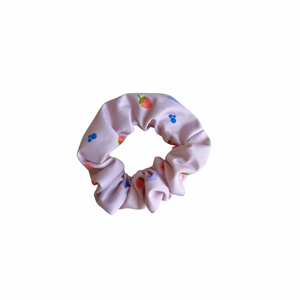 hair scrunchie
DID YOU KNOW? Each pet allows you to collect 1 bottle of water in our oceans and landfills.
For all ages. Proudly wear this scrunchie that contributes to a good cause!
This simple little darling was born out of our zero waste efforts. It comes from our fabric scraps, which would automatically have been destined for emptying. We decided to recover each piece of fabric to create a small accessory that is always useful!
FEATURES
This scrunchie is made 100% in Quebec

The exclusive Kantalou fabric is made from recycled water bottles

The fabric is waterproof & washable, 100% polyester 100% recycled fibers

For all ages
INTERVIEW
Put in the washing machine with soap without fabric softener

DO NOT machine wash in hot water (this could damage the fabric)
DO NOT put in the dishwasher (this could damage the fabric)
Air dry (recommended method) or machine dry. LOW temperature

DO NOT tumble dry at high temperature (this could damage the fabric)
Kantalou - For our planet, for our minis.