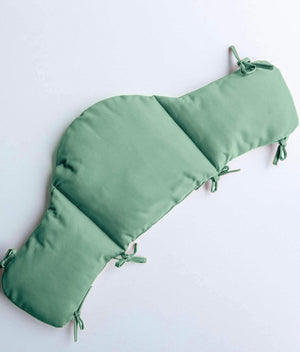 Backrest Cushion Melon shell Swing
MELON BACKREST CUSHION FOR THE EVOLUTIVE SHELL-SHELL SWING
The backrest cushion is ideal for making the seashell swing even more comfortable and safe, in addition to adding a touch of color that will appeal to the child's eyes and match the room!
Like all of our products, this pillow helps collect 4 water bottles left in our oceans and landfills!
100% polyester fabric 100% recycled fibers
FACILITY
Pass the ropes around the balls of the swing to make a double knot and a small loop
INTERVIEW
Remove the swing cushion.
For a small stain, wipe the cushion with a damp, soapy cloth and air dry
For a thorough wash, put the cushion in the washing machine with cold water on a delicate cycle. Tumble dry low or air dry