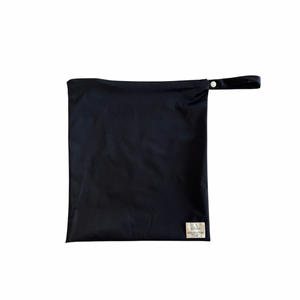 Big Carry Bag made from recycled water bottles
DID YOU KNOW? Each bag allows you to collect 2 plastic bottles abandoned in our oceans and landfills .
Carry bags are ideal for outings!
For dirty diapers, daycare clothes, baby meal kits, school sportswear, swimwear!
We can hang it on the diaper bag, on the backpack, on the doorknob!

FEATURES
These bags are 100% made in Quebec

The exclusive Kantalou fabric is made from recycled water bottles

Waterproof & machine washable, 100% polyester 100% recycled fibers

Dimension Big carry bag: 12'' x 14''
INTERVIEW
After use, rinse with cold soapy water and allow to dry

Put in the washing machine with soap without fabric softener

Air dry (recommended method) or machine dry. LOW temperature

DO NOT machine wash in hot water (this could damage the fabric)
DO NOT tumble dry at high temperature (this could damage the fabric)
To avoid stains, use a stain-removing Marseille soap
Kantalou - For our planet, for our minis.