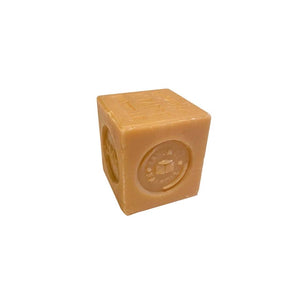 Natural stain remover soap 200g
Marseille soap 200g

Natural Marseille soap is renowned for its softness and stain-removing ability. It was made using the traditional method, in a cauldron.

Based on vegetable oils, without coloring, without perfume and without synthetic product.
Recommended for removing stubborn stains from bibs and snack bags
Recommended for gently washing delicate laundry: baby clothes, food fabrics, fragile fabrics.
Our usage recommendation:
After a messy meal or if a stain persists, run the item and the bar of soap under cold water. Gently rub the stains in a circular fashion. Wait 15 minutes and put in the washing machine.
Other funny possible uses:
- Usable as toothpaste! Good for gums and makes teeth white
- Effective in relieving cold-related cramps (by placing a cube of soap at the bottom of the bed
- For sensitive skin, recommended by dermatologists
- To clean small wounds and abrasions